NEW STUDENT? STAYING AT STUDENT ACCOMMODATION?
If you are residing at any student accomodation (i.e Castings, Storthes Hall, Aspley House etc), we MUST have your BLOCK, FLAT and ROOM NUMBER to process your registration. If these are not included in your form, we may be UNABLE to register you. If you do not have these details available, please contact the University Health Centre via email at u.healthcentre@nhs.net for further information.
Out of Area Registrations
If you are living out of the practice boundary area (please see map - Storthes Hall is included in the practice boundary area) but study or work within Huddersfield you may be able to register here. Please note, as you will be registering as an "out of area" patient, this means that if you were sick at home we would be unable to offer you a home visit. However, there are systems and processes in place whereby you can access urgent care closer to your home address. Please call the Health Centre on 01484 430386 if you require more information.
The Partners will assess your application for registration and we will let you know if your registration has been accepted. Please note that if you have complex health needs then the Partners may decide that you are not suitable for an "out of area" registration.
If you are already registered with us but move out of area, you may be able to remain registered at the practice as an out of area patient. Please contact the Health Centre for further information.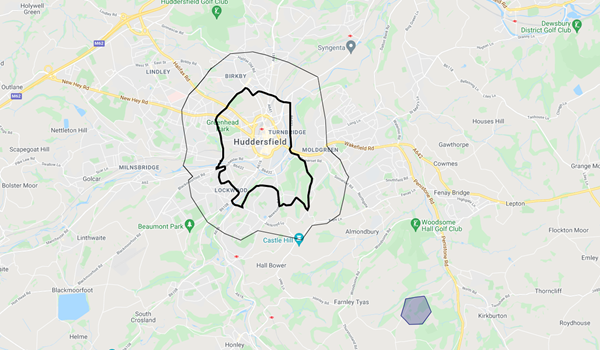 Temporary Patient Registrations
If you are ill while away from home or if you are not registered with a doctor but need to see one you can receive emergency treatment from the local GP practice for 14 days. After 14 days you will need to register as a temporary or permanent patient.
You can be registered as a temporary patient for up to three months. This will allow you to be on the local practice list and still remain a patient of your permanent GP. After three months you will have to re-register as a temporary patient or permanently register with that practice.
To register as a temporary patient simply contact the local practice you wish to use. Practices do not have to accept you as a temporary patient although they do have an obligation to offer emergency treatment. You cannot register as a temporary patient at a practice in the town or area where you are already registered.
Non-English Speakers
These fact sheets have been written to explain the role of UK health services, the National Health Service (NHS), to newly-arrived individuals seeking asylum. They cover issues such as the role of GPs, their function as gatekeepers to the health services, how to register and how to access emergency services.
Special care has been taken to ensure that information is given in clear language, and the content and style has been tested with user groups.
Open the leaflets in one of the following languages:
Access To Services
Access to Services by People With Disabilities
The practice has done its utmost to be easily accessible and user-friendly for our disabled and wheelchair-bound patients.
There is a designated parking space in the car park.
If you need any assistance whilst attending the practice please contact reception.
Access is via the canal tow path with automatic doors.
Reception have a lower desk for those in wheelchairs.
An induction loop is available to help the hard of hearing have clearer conversations. This can be provided for individual consulting rooms when necessary.
There are also toilet facilities for the disabled located on both floors.
Surgery rooms and reception are accessible by using the lift.
We have available on request, large print practice leaflets. If you require large print or braille leaflets please ask as reception and we will aim to help where possible.
If you experience any problems, please speak to our reception staff, who will do their utmost to assist you.
Other Access Issues
Prams and Bicycles
Pram and bicycles may be left in the outer foyer of the main entrance to the Practice at your own risk. There is a bicycle park at the back of the building which is available for securing bicycles, however patients should provide their own chains/locks.
Dogs
All dogs, with the exception of assistance dogs, should be left outside the building.
Smoking and Food
The building is a non-smoking building and we request that this be honoured. We also request that patients do not eat or drink whilst waiting for their appointments. A cup of water may be obtained from reception on request.