Appointments Update
Appointments can be made by telephoning the surgery on 01484 430386 between 08:15 - 18:00.
Depending on your needs, we are currently booking either telephone or face to face appointments with our clinicians; some of whom are working from home for some of their clinics. From discussing your symptoms/needs over the phone during a telephone consultation, the clinician may still need to invite you into the health centre for a physical examination or procedure.
Please ensure that your contact details are correct at the time of booking a telephone appointment and answer the phone when the clinician calls you. Please be advised that you may receive the call from a withheld number.
For both face-to-face and telephone appointments, only one problem may be discussed, unless otherwise stated at the time of booking the appointment.
Telephone Appointments
As well as face to face appointments, the doctors can still be consulted for advice on the telephone. Please ask for a telephone appointment when you ring the surgery. You will be given an appointment time and the doctor will ring you back at approximately that time.
10 Minute Appointments
Please note that appointments with the doctor/nurse are 10 minute appointments. Please bear this in mind should you have more than one problem to discuss. If so, please request a longer appointment when booking.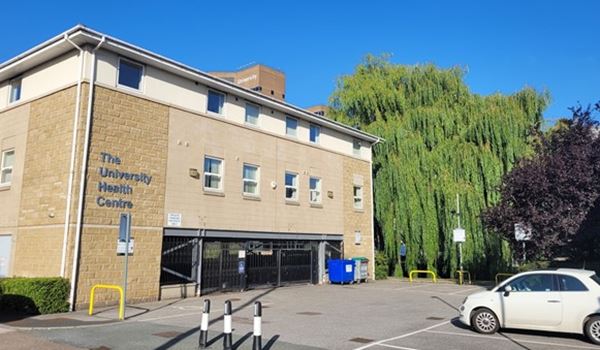 Parking
We have a designated Car Park for the sole use of our patients, run by Parking Eye. To avoid receiving a parking fine, please enter your registration details at Reception. If your visit takes longer than an hour you will need to let the Receptionist know so that your authorised stay can be extended.
Home Visits
Ring the Health Centre (01484 430386) and ask for advice. If a friend has to ring for you, they need details of your problem.
The doctor will decide whether a visit is necessary.
Please ring before 10:30 a.m. whenever possible.
Please note patients are expected to attend the surgery in all but exceptional circumstances. This offers better and more prompt facilities for assessment, treatment, observation and review.
Chaperones
Our practice is committed to providing a safe, comfortable enviroment where patients and staff can be confident that best practice is being followed at all times and they safety of everyone is of paramount importance.
All patients are entitled to have a chaperone present for any consultation, examination or procedure where they feel one is required.
Your healthcare professional may also require a chaperone to be present for certain consultations in accordance with our chaperone policy.
If you wish to have a member of the practice staff present during your consultation please mention this to our reception staff when booking your appointment, or to the doctor at your consultation, and it will be arranged.
Medical Students
Since 2016 the practice has welcomed medical students to the team. This means students are with us on Tuesdays and Thursdays and sit in on some clinics.
They will be learning how to take detailed histories from a patient in order to make a diagnosis. If you do not wish for medical students to be present during your consultation please let reception know.
Medical Certificates for University
If you require an extension to your academic deadlines due to your circumstances you may be required to gather supporting evidence. You will need to submit an electronic request via the MyDetails link within your Student Hub and follow the prompts. If you are unsure how to do this you will need to see your tutor, School Office or the Students' Union Advice Centre. You will be informed on completion of your request as to whether you are required to gather medical evidence.
If you require "a letter due to extenuating circumstances" due to a missed deadline (i.e. a request for an extension was not submitted or approved) or where you could not sit an exam or had to leave an exam due to illness you will need to see a GP and request evidence to support this. Please note fees may apply for any letter/evidence provided by your GP/health practitioner.
You may require a letter/evidence for a CAB (Course Assessment Board) Appeal. A CAB Appeal is needed when you wish to query the marks or degree classification you have received. You must follow the guidance offered to you by the University under this procedure. This procedure requires more robust medical evidence therefore you will need to book an appointment with a GP/health practitioner to discuss this further. Please note fees may apply for any letter/evidence provided by your GP/health practitioner.
If you are unsure which medical certificate you require please speak to the Reception staff, your tutor or the Students' Union Advice Centre who will be able to help you further.
If you require a letter for Disability Services in order for support to be put in place for your studies, please speak to the Reception Team at the practice. This evidence can either be:-
A letter which confirms your diagnosis, confirms how long you have been or are likely to be affected by the disability or condition and the impact this has on your day to day life.
A disabled Students' Allowance (DSA) Disability Evidence Form which you can ask your GP or health practitioner to complete. The forms are available from this link http://media.slc.co.uk/sfe/nysf/sfe_dsa_disability_evidence_form.pdf or from the Wellbeing Disability Services Help Desk in Student Central.
This evidence can apply to a range of disabilities including medical conditions such as Diabetes or Epilepsy, specific learning difficulties such as AHDH, mental health issues physical or mobility disabilities, hearing impairments, visual impairments or social communication difficulties such as Autistic Spectrum.
Cancel an Appointment
It is important that you inform the reception staff if you are unable to attend your appointment, this will allow that appointment to be offered to another patient. If you fail to notify the Practice that you are unable to attend, you will be sent a letter informing you that you have defaulted from your appointment. Persistent defaulters maybe removed from the list.
You can also complete our appointment cancellation notification request form. This can only be used if your appointment has been arranged for more than 24 hours in advance (excluding weekends and public holidays). You can also text to cancel your appointment.
Late For Your Appointment
Please attend your appointment on time, if you are late you may not be seen. If you are not seen you will not be able to rearrange your appointment until the next working day-except in the event of an medical emergency that requires immediate attention.
Interpreter
If you require an interpreter to attend with you when you see your Doctor please notify the receptionist and she will arrange this for you.